2021 Jeep Wrangler in Calgary, Alberta
2021 Jeep Wrangler
Available at Big 4 Motors Ltd.
The 2021 Jeep Wrangler
At Big 4 Motors, we deal with numerous popular vehicles used and new that clients within Calgary, Alberta. We are the preferred Chrysler, Dodge, Ram, and Jeep dealership in Calgary, Alberta, that sells Jeep vehicles, including the 2021 Jeep Wrangler. Big 4 Motors dealership serves the larger Alberta area and Red Deer, Airdrie, Okotoks, and Chestermere's surrounding areas. You can contact us to explore our competitive prices and deals of the latest Jeep Wrangler located in our financing centre.
What's New
The new Jeep Wrangler is a fantastic SUV with impeccable off-road capabilities that will make your adventures and daily commute memorable. Clients should expect the brand-new 2021 Wrangler to feature a 4xe plug-in hybrid trim its broad lineup. Additionally, the 2021 Wrangler has an optional TrailCam front camera system to enhance safety on the road. Furthermore, drivers that love adventure should expect the Rubicon model to feature off-road Plus drive specifications as standard.
2021 Jeep Wrangler Exterior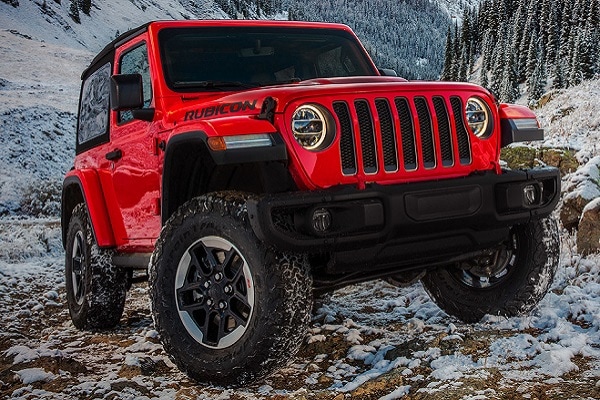 2021 Jeep Wrangler Interior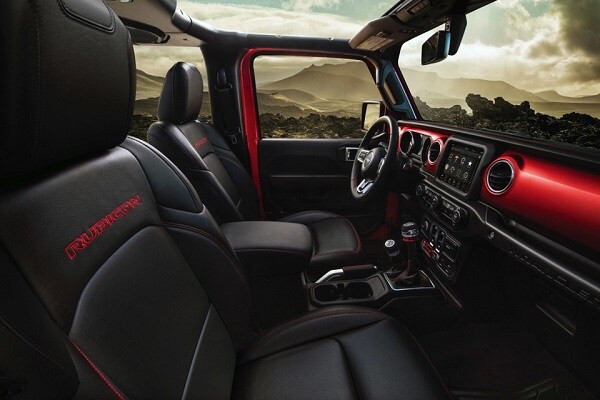 2021 Wrangler Safety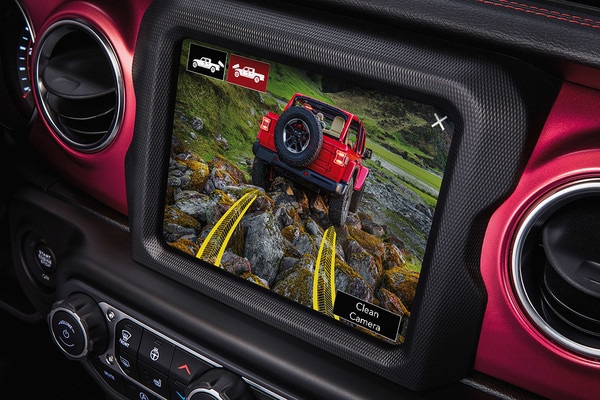 2021 Wrangler Design
The 2021 Jeep Wrangler exterior follows an eye-catching boxy design among the large family of Jeep vehicles. It is available in either a two or four-door configuration where the former is 166.8 inches long. The four-door Jeep Wrangler is approximately 188 inches. Additionally, the two and four-door Wranglers have a soft-top that is easily removable to allow passengers to get the full effect of adventure.
The 2021 Wrangler door is easily removable to create an open-air adventure aside from the interior air conditioning. Therefore, the latest Jeep Wrangler comes with foldable windshields. Furthermore, it has optional hardtops roofs with power-retractable panels to impart insulation for the passengers.
The Jeep Wrangler interior can fit four or five people depending on the door-configuration. Four passengers can perfectly fit in the two-door models of the Jeep Wrangler. Conversely, the larger four-door variant has a family-friendly cabin that accommodates five individuals. The rear seats of the four-door models provide passengers with ample shoulder, leg, and headroom.
The 2021 Jeep Wrangler interior features a simple low-key, and good cabin fitted with simple and user-friendly technology. It has a sizeable centre stack with minimalistic, realistic, and simple controls. Higher trim levels feature Nappa-trimmed leather seats and power-adjustable seats with heating. The Sport, Sahara, Rubicon, and Sport S comprise the primary models of the 2021 Wrangler with features like fog lights, push-button start, sunroof panel, under-body skid plates, and five-inch and 8.4-inch touchscreen.
Additionally, it features Apple CarPlay and Android Auto, USB ports and Alpine audio system, and automated climate control. Notable standard safety amenities include blind-spot monitoring and forward-collision warning.
Engine Options
The 2021 Wrangler features a 3.6-litre Pentastar V6 engine that creates 285 horsepower and 260 pound-feet of torque. Drivers have the option of selecting a six-speed manual or eight-speed automatic transmission, where the latter enhances fuel through its eTorque. Therefore, the manual Wrangler and Wrangler Unlimited variants have a combined fuel economy of 11.2 L/100 km and 11.76 L/100 km. Conversely, the Wrangler and Wrangler Unlimited running on an automatic transmission have a combined fuel economy of 10.69 L/100 km and 10.94 L/100 km.
Drivers have the option of settling on a turbocharged 2.0-litre four-cylinder engine across all models of the 2021 Wrangler. It couples to an eight-speed auto transmission to generate a substantial 270 horsepower and a torque value of 295 pound-feet. The Wrangler and Wrangler Unlimited record a combined fuel economy of 10.23 L/100 km and 10.45 L/100 km. Furthermore, the latest Wrangler 4xe features an electric motor coupled to the turbocharged engine to create 375 horsepower and 470 pound-feet of torque.
The 2021 Wrangler with a four-door configuration features a 3.0-litre V6 engine coupled to an eight-speed auto transmission to create 260 horsepower and 442 pound-feet of torque. Drivers can find the 6.4-litre V8 engine under the hood of the latest Rubicon 392 model. It has an impressive 470 horsepower and a torque value of 470 pound-feet that will beat poor weather and road conditions.
Performance Features
The 2021 Wrangler operates on a four-wheel-drive setup that features Command-Trac part-time and Selec-Trac 2-speed transfer cases, where the latter is full-time. The Driver can find low-range gear, disconnecting the front sway bar, and electric locking differentials in the Rock-Trac 2-speed transfer case. The latest Wrangler has an impressive towing capability of 3500 pounds.
Contact Us
Suppose you are within Alberta's areas and the surrounding areas of Okotoks, Chestermere, Airdrie, and Red Deer to our Big 4 Motors dealership. We offer our esteemed customers awesome auto deals, including market competitive prices for the latest Jeep Wrangler. Contact us, our team, to start the online purchasing process through our finance centre. You can contact our team today for more details regarding the 2021 Wrangler, Ram 1500, and other trucks in our new inventory.
2021 Jeep Wrangler in Calgary, Alberta
Hours
Monday

8:00am-8:00pm

Tuesday

8:00am-8:00pm

Wednesday

8:00am-8:00pm

Thursday

8:00am-8:00pm

Friday

8:00am-6:00pm

Saturday

9:00am-6:00pm

Sunday

Closed